Glagolitic Keyboard Layout
The name Glagolitic is rendered in Belarusian as глаголіца ('hlaholitsa'), Bulgarian and Macedonian глаголица ('glagolitsa / glagolica'), Croatian and Serbian glagoljica/глагољица, Czech hlaholice, Polish głagolica, Russian глаголица ('glagólitsa'), Slovene glagolica, Slovak hlaholika, Ukrainian глаголиця ('hlaholytsia').
Verze: 0.12
Licence:
GNU General Public License
Instalation:
Font instalation
If your system provides a glagolitic font, you can see a glagolitic text here:
Ⱈⰾⰰⱈⱁⰾⰹⱌⰰ
Otherwise, you have to download it first. You can find some in
Sources
.
News/changes in version 0.12
The placement of characters "Glagoli" and "Heru" is switched. Now is G = "Glagoli" and H = "Heru".
Keyboard layout instalation
Download both Linux and Windows version in zip file
version 0.12 here
.
Download prewious version in zip file
version 0.11 here
.
Linux
Read (or view) files'readme', 'InstallTerminalCommands' and 'InstallationPicture.png' in the 'Glagolitic-Dist-0.12/Linux/' directory.
The instalation requires following steps (under root login):

Windows
Execute the 'setup.exe' file in the folder 'Glagolitic-Dist-0.11\Win_32_64\glagolit', it'll use the appropriate package for your system.
If it's running system older than Windows Vista, restart your computer.
Note: Uninstalation is possible through Control Panel/Add or Remove Program (Programs and Features), after the uninstalation restart your computer (on all Windows versions).

Using Glagolitic Layout

Language code
Language code for Linux:
according to ISO_639-2, language name: "Church Slavonic; Church Slavic; Old Church Slavonic; Old Slavonic; Old Bulgarian",
a three-letter code alpha-3 'chu' and a two-letter code alpha-2 'cu'.
Icon:

.. There is only a simple icon (flag) in the SVG format in the instalation package.
If you need a bitmap icon, download here ready-made set of icons of different size.
For the flag to show on keyboard switcher, look for a file according to your distribution, environment and a switcher, e.g.:

Mandriva Linux 2008, KDE 3.57, /usr/share/locale/l10n/cu in the PNG format (a Cuban flag is overwritten)
Debian Lenny, /usr/share/pixmaps/flags/ accepts SVG format (to activate by means of gconf-editor, set /desktop/gnome/peripherals/keyboard/indicator/showFlags to true, i.e. checked)
OpenSuse 11.0 KDE 3.5, rewrite the file /opt/kde3/share/locale/l10n/cu/flag.png - PNG format (a Cuban flag is overwritten)

For Windows
According to the keyboard layout it's based on, i.e. US
Sources
Glagolitic keyboard layout based on US layout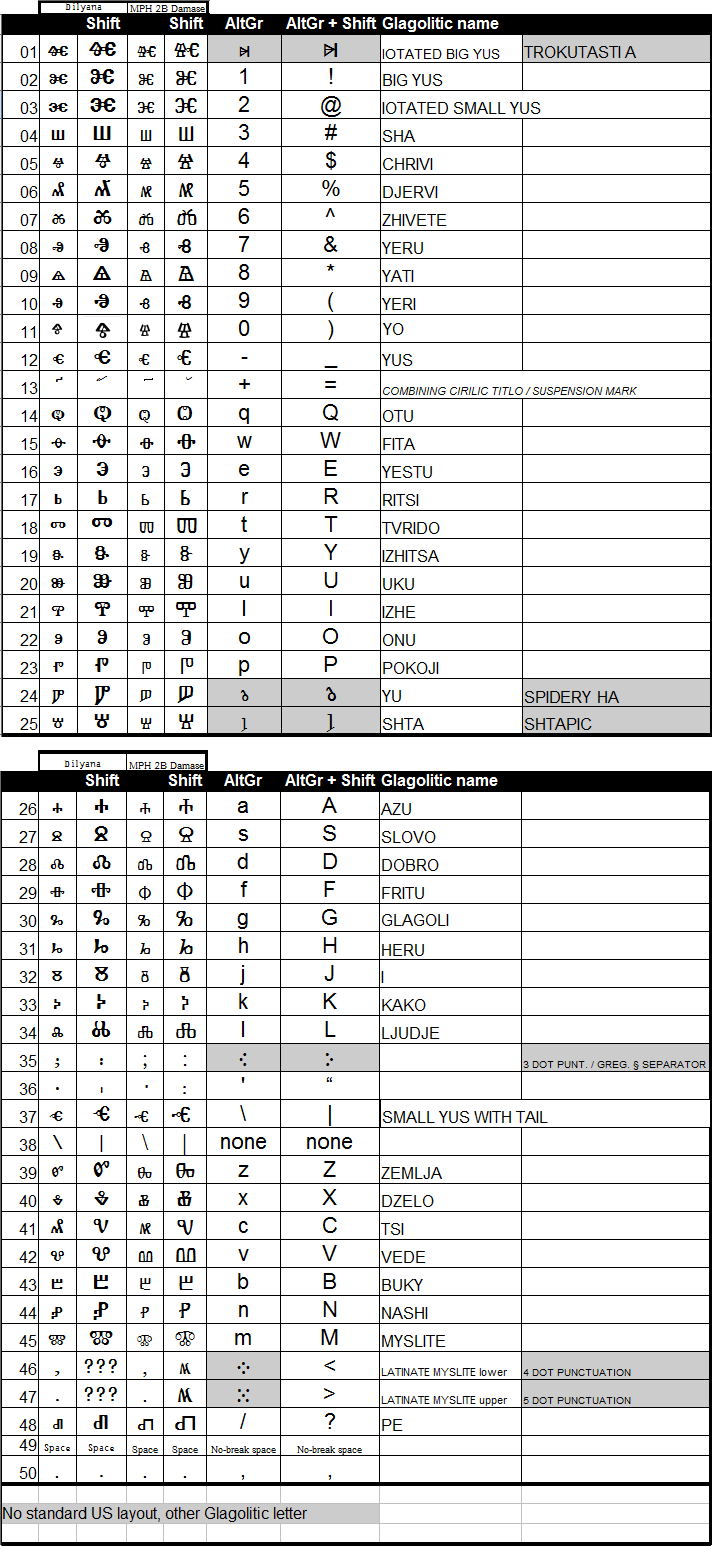 Download introUS (pdf)
Credits:
Igor Mega
(coder)
Martin Smatana <msmatana
at
azet
dot
sk> (expert adviser)
Tomáš Kokoška
(english page translation)
Try another great layout:
Czech IMega (for coders) [Czech only]
Kilobyte standard